Are you interested in buying a trail camera and want to learn about them?
Then keep reading this post because I will present to you the best trail camera models, so you can read about their specifications and decide which one would you like to have. If you're buying a game camera for the first time, read how to handle it and why the trail cameras are worth to purchase.
15 Top Rated Game Camera Reviews
Best Wifi Game Camera
Stealth Cam Trail Camera
This wireless trail camera has an antenna to receive wifi or Bluetooth signals. Using wireless connectivity, this camera can send photos and videos to your smartphone. The most distance range between your phone and the camera can be about 50 ft.
This trail camera has ultra-high 30MP photo resolution and 1080P video resolution. It uses 4s trigger speed, but it also includes blur reduction, so you can expect clear photos of running animals or any moving object. The photos are collected on the SD card. The camera requires 8 AA batteries.
This trail camera is one of the wireless game cameras on the market. You can read about then in this wireless trail camera post. If you want to explore more Stealth models, you can check this Stealth trail cameras post.
Features:
30MP photo resolution
about 50 ft wireless distance
4s trigger speed
blur reduction
Best Cellular Trail Camera
Browning Game Camera
This is also the trail camera that sends the pictures to your phone. Instead of wifi, this trail camera is connected via the cellular network. This network is payable and the data plan costs about 13 dollars per month, but you have to check the Browning price list for more details.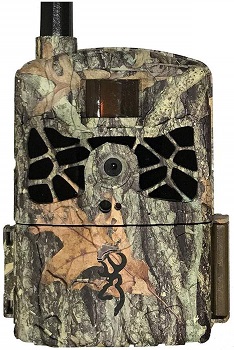 The Browning Defender has 20MP photo and 1080P video quality. The motion detection range is 80 ft and the flashlight range is 120 ft. The trail camera can shoot fast movements using 0,2s trigger speed. The larger memory storage of the SD card which you can insert in the camera is 32GB.
If you want to learn more about this type of trail camera, you can check this post about the best cellular game cameras. You can also see more information about this brand, so you can click on this post about Browning Game Cameras.
Features:
20MP photo and 1080P video resolution
120 ft night light range
Best Cheap Trail Camera
Moultrie A300 Trail Camera
This is one of the best budget trail camera models you can find on the market. For a low price, you will get 12MP quality photos and 720P videos. At night, the camera uses a 60 ft long IR light. The motion detection range is 60 ft, too.
This trail camera is compatible with the Moultrie modem for cellular network connection. This system is sold separately and the price for receiving photos and video on the phone is about 10 dollars. The Moultrie mobile app works both on iPhone and Android.
If you want to buy an affordable game camera, read here about cheap trail cameras. In this post, you can see the offer of the best budget-friendly cameras for sale. And to see more models in the Moultrie brand offer, you can read this post about Moultrie trail cameras.
Best Hunting Deer Camera
Campark Trail Camera
This trail camera has camouflage design and waterproof material, ideal for hunting. The photo resolution is 12MP. The night black and white pictures are captured using IR LEDs with no glow effect, so the camera is invisible at night. This deer camera includes 3 PIR sensors that can recognize the motion on the maximum distance of 65 ft and under 120°wide area.
You will have to purchase 32GB or less SD card and 8AA batteries. You will get mounting strap and screws for the installation on a tree in the wood. In the package, you will also find USD cable for transferring files to your computer and Instruction manual. You can read the instruction if you need help with mounting.
You can also choose other hunting cameras. The offer of the best deer cameras you can see in this post. You can use other Campark trail cameras for your hunting needs. Which models the Campark brand offers, you can check in this post.
Features:
65 ft long and 120°wide view
3 PIR sensors
invisible night light
Best Trail Camera For Security
Bushnell Trophy Game Camera
The Bushnell Trophy trail camera has less visible design, which is important for security. It's simple to use with operation buttons. The 16MP is the photo resolution of the camera. The video resolution is 720P and the video length is the most 1 minute. There's a stamp on the photo which gives you information about date, time, temperature, moon phase, and GPS location.
The motion detection sensors notice the movement on a distance of 100 ft and less. For the good night vision, the camera uses low-glow lights which can lighten up the field of a maximum of 100 ft, just like the detection range is. The battery life is durable and the batteries are 8AA.
For a detailed description of this trail camera you can click on this post about Bushnell trail cameras. On this link, you can find more Bushnell models. And on this link, you can see more about game cameras for security. You can find the best trail cameras for your home protection.
Features:
photo and video mode
long-lasting battery
100 ft distance of detection and flash
Best Camera For Bird Photography
Bresser Bird Feeder Camera
This bird camera is placed in the bird feeder. This way you can get detailed photos of the birds because the camera doesn't scare them and they don't notice it. You can mount this bird feeder camera on a three using a built-in mounting hook.
You can watch the birds on 1,5MP resolution photos. The trigger speed of 0,1s is very fast, so the camera can capture flying birds, too. The photos are stored in the 2GB SD card. The camera excepts the rechargeable batteries.
You can see the Bresser cameras offer and information about the brand in this post. If you are interested in birding cameras, you can click on this post and see the best bird cameras you can find on the market.
Features:
 feeder included
0,1s trigger speed
1,5MP photo quality
Best Wildlife Trail Camera
Apeman H55 Trail Camera
This Apeman trail camera is appropriate for wildlife because of its waterproof material. You can leave the camera on a tree during wet weather. The camera is less noticeable and durable at low temperatures. The camera package doesn't include an SD memory card and the batteries. It does include mounting accessories such as strap for mounting on a tree.
This game camera captures 20MP photos and records 1080P videos during day and night. For the night vision, it uses no glow flash which doesn't scare the animals. The flash range is 65 ft. The photos are marked with time, date, temperature stamp.
Except for this Apeman wildlife trail camera, this brand product list is longer. You can check this post to see which Apeman models you can choose. If you want to see more wildlife game cameras you can also find on the market, click this post about best wildlife trail cameras.
Features:
65 ft flash distance
20MP photo quality
Best Small Game Camera
Toguard Mini Trail Camera
This is one of the smallest trail cameras for sale. You can carry it in your hand, so it has a practical size and blend-in texture. The camera is waterproof and easy to mount on a tree in the wood or another outdoor place. For mounting, you will get a strap and plate.
The camera has 12MP resolution and captures photos using motion detection sensors. They can locate the motion the most 65 ft far away from the camera. The camera view is 120°wide and the trigger speed is 0,5s. The video mode is also available. The camera uses IR night light.
If you need more ideas about which small trail camera you should buy, read this post about the best small trail cameras. You can also check Toguard offer to see if there's a trail camera which can please you.
Features:
practical size
easy to set up
needed equipment included
Best Solar Game Camera
Spypoint Game Camera
This trail camera design suits the environment. You can leave it in nature on the sunshine because the camera supports solar panels. The 12MP photo resolution and HD video give you a clear view no matter what time is. That's because of 90 ft long night flash.
The motion detection distance is even longer, it's 110 ft. When the memory is full, the camera removes the oldest pictures automatically and there's always enough space. Except for the solar panels, the camera can work by AA and lithium battery, too.
If you find solar-powered trail cameras practical, you can see more models that you can charge using solar energy. The list of the best solar trail cameras you can check here. If you're interested in this brand, you can read this post about Spypoint game cameras.
Features:
solar powered
long motion detection and flash range
good quality photos and videos
Best Night Vision No Glow Camera
Primos Trail Camera
This trail camera has foliage pattern which fit in nature. The camera is resistant to all the temperatures, from -20°F to 120°F and it's also waterproof. The camera has a 45°wide perspective and a 35 ft long motion detection range. The same range has infrared flashlight.
The camera has an 8MP photo resolution and can record the video of the different lengths. The sound recording is turned on. You can watch the videos from 5 to 60 seconds. It has burst mode and time-lapse mode. The battery can last for about 8 months and it depends on your activities with the cameras.
To find out more about Primos brand and see what it produces, you can read this post about Primos trail cameras. If you want to learn about other trail camera models which has quality night vision and no glow lights, you can see this list of the best no glow trail cameras.
Features:
long battery life
waterproof
low temperature resistant
45°wide view range
a lot of video lengths
Best Self Filming Hunting Camera
Tactacam 5.0 Hunting Camera
This trail camera is suitable for mounting on the shotgun or bow. The camera has an 8x zoom option, so you can use it to target and record a video at the same time. You can carry it with you in the hunting adventures no matter what the weather is because it's waterproof.
It has a flexible ring which suits to all sizes of guns. The camera can only record the video of 1080P, 2,7K or the highest 4K resolution. You can connect the camera with your mobile and then you can do live streaming. The video has sound recording. The battery lasts for about 2,5 hours.
You can click on this link and see more self filming camera models you might like. If you prefer the Tactacam brand, you can check here to see what the Tactacam offers.
Features:
8x zoom option
4K video resolution
live streaming
Best Outdoor Trail Camera
Muddy Pro-Cam Trail Camera
This trail camera with camouflage design offers you to choose 14MP or 20MP photo resolution. it has burst mode with up to 8 photos. The video quality is 720P and the video includes audio. The camera has 0,6s trigger speed. The motion detection is turned on and the distance range is 50 ft.
This Muddy outdoor trail camera uses 36 LEDs.The trigger speed is 1,5 seconds. The largest SD card size which is possible is 32GB. The camera requires 6AA batteries. The memory card and batteries aren't included in the package with the camera.
For more information about Muddy brand, you can check this post. If you're interested in other outdoor trail cameras, this post about the best outdoor game cameras you can find for sale might interest you. Check it to find out if there's a model that you'd like to have.
Features:
20MP photo resolution
720P video resolution with sound
1,5s trigger speed
Best 4G Game Camera
Spartan Trail Camera
This Spartan game camera can be connected with your phone via the 4G network. The price for this cellular connectivity option is about 5 dollars monthly, but you have to check the Spartan price list. The photo resolution is 8MP photo and 720P video.
The SIM card needed for a 4G connection is included in the package. The SD card which you can insert shouldn't be above 32GB. You can be sure the camera has enough memory non-stop because it has a setting for self reducing old pictures.
The Spartan brand offers a lot of trail camera models. You can read about them in this post about the best Spartan trail cameras. There's also plenty of 4G trail cameras on the market, so check it out here. You can read about the best models of 4G game cameras and find out all their specifications.
Best 360 Game Camera
Wildgame Innovations Game Camera
This Wildgame trail camera is one of the rare 360 game cameras. The lens can turn around for 360°when the motion sensors feel the movement. The trigger speed is 1,5 seconds, so the camera captures the fast movements with 12MP photos and 720P video quality.
The night vision is also quality. The night flash range is 70 ft. The camera isn't durable in the bad weather. The mounting equipment is included in the box, except for the batteries and the SD card. The camera requires 8AA batteries and 32GB or less SD card.
To see more specifications this camera includes, here is the post which you can read. In this post, you can also find out all the information about 360 trail cameras. If you want to see more products from Wildgame Innovations brand, you can click on this post.
Features:
360°wide view
70 ft night range
12MP resolution
Best Trail Camera Multi Pack
Cuddback Cuddelink Trail Cameras
In this trail camera package, you can find 4 trail cameras that can be connected via the Cuddelink network. That means you can receive all the photo from all the cameras to one home camera. You can connect up to 16 Cuddeback trail cameras using one Cuddelink network.
The cameras included in this Cuddelink Black Flash trail camera package has 20MP photo resolution and use 940nm LEDs. The distance between the cameras can be about 1 mile. The photos are stored at SD cards. You can watch all the photos on the cell home camera, but not remove them.
If you like this Cuddeback Cuddelink system, you can check other Cuddeback models by click on this post. If you'd like to purchase the trail camera multi-pack from another brand, you can read this post about the best game camera packages and choose the best for you.
Features:
up to 16 connected trail cameras
20MP photo quality
Buying Guide For Trail Cameras
Trail Camera Clarity
The most important is game camera photo clarity. You will know that the camera has a clear vision if you check its resolution. The photo resolution of the trail cameras is from 12MP to 20MP. Rarely, you can find a game camera with 30MP resolution or 8MP. The highest quality resolution means better clearity. The video resolution of trail cameras are 1080P or 720P. Only self filming hunting camera has higher, 4K video resolution.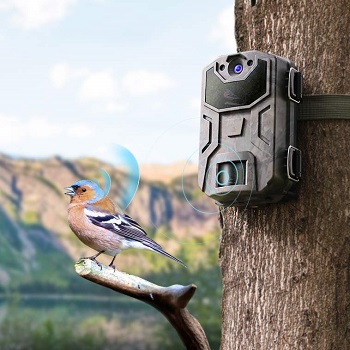 The Quality Of Motion Pictures
One more important feature for the trail cameras is the distance range where detection sensors can identify a motion. Usually, the distance is from 60 to 100 ft, rarely above 100 ft. For movements capturing, it's also important the camera has fast trigger speed, which is often about 0,4 seconds. Some cameras include a blur reduction option to make motion pictures more clear.
Night Vision Feature
The trail cameras have night flash for night shooting. The night photos are black and white, but the color is less important than photo quality. When you're buying a trail camera, you should have in your mind to choose the one with no glow or low glow night flash because this light is invisible at night, so it won't scare animals. You should also pay attention to flash range. It may coincide with the motion detection range, but not always.
Needed Equipment For Trail Cameras
In most trail camera packages you will find the mounting accessories you need. There are mounting straps, brackets, screws or rarely tripods. This equipment should be enough for you, but you can buy separately what you need. The batteries and SD cards, in most cases, aren't included in the package. But you can purchase AA batteries in almost all stores. The optimal size of the SD card is 32GB or less. Rarely, the camera can support larger memory cards. Some trail cameras can be rechargeable with solar power.
Where Are Trail Cameras Available For Buying?
If you choose a trail camera for buying, the first option is to find this model on this trail camera brand official website and check on its webshop. Some trail camera brands offer their products in their partners' stores. The trail camera deals are also available on webshops, like Walmart, eBay or Amazon. The reason why is good to visit webshops is that you can read customers' experiences with a trail camera.
Trail Camera Clearance
All the models I reviewed you can check and buy on Amazon. There's the best deal on trail cameras you can find, so you can save your money when buying on this webshop. On Amazon, there's a list of the all product clearance, so you can see which trail cameras are there. Or you can see a trail camera description and see its discount price.
Why Is Useful To Have A Trail Camera?
More Efficient Than Waiting In The Wild
The trail camera is useful for hunters and all those who want to oversee the wildness. A game camera offers you to watch the animals, but you don't have to wait for them in the wood. You can set the camera on the place you want and watch the action at home. This advantage is especially useful for night shooting.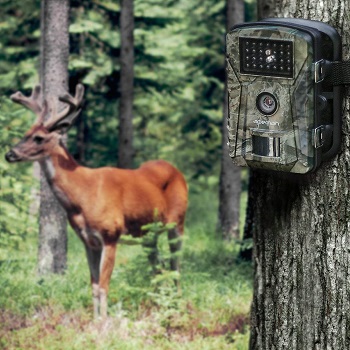 Sensors Better Than Finger
Moreover, when capturing movements, the motion detection option is better than a human finger. So, you can be sure the trail camera will record action at the right moment, and you maybe couldn't with a digital camera. That's because it's hard to capture the fast-running animals, but the trail camera has a trigger speed less than a minute.
Keep Your Home Secured
The trail cameras are also useful for security. You can set them in angles in your house, yard or garden. If the robbery happens, you can check the thieves on the camera photos. An usual security camera records all the time and spends the memory and battery. The trail camera record only when the motion is detected. So, the trail camera gives you only pictures of thieves, not an empty place.
Conclusion: Which Trail Camera Is The Best For Buying?
Which one from this trail camera list to choose? It's no so easy to answer because the models I reviewed are the best trail cameras you can find on the market. All of them has some features which are useful for a lot of activities and purposes. So, your choice depends on what you need a trail camera for. You can check which category describes your needs the best and then you see which trail camera is recommended.
If you like this best trail camera post and want to learn more, you might be interested in this post about trail cameras that send pictures to your phone. You can also read about hunting cameras or if you need it for your home protection, you should check this trail cameras for security list.