Would you like to know what's going on in front of your trail camera at this moment?
Would you like to watch pictures of the trail camera on your mobile phone?
Then this post is for you.
In this post, I will give you all the information about trail cameras that send pictures to your phone. I will also present to you the best 5 models of game cameras that send pictures to your phone. Check these reviews and decide which model would be perfect for you.
Information About Trail Cameras That Send Pictures To Your Phone
What Do These Cameras Offer?
If you buy a game camera that sends pics to the phone, you can watch all the files that the camera contains on your smartphone. You can also manage the camera settings using your phone. This way you don't have to move your camera from the place where it's mounted. You can oversee your trail camera from home.
How Does It Function?
To receive photos on your phone, you need a trail camera with network connectivity, a smartphone, the mobile app, and the network. When the camera locates an animal or another moving object, it captures a photo. At this moment, you receive a message on your phone. You can open the mobile app and see what the camera has captured. It's much better than waiting to capture objects by yourself.
What Type Of Network The Camera Needs?
You can buy a trail camera that supports wireless or Bluetooth connection or you can purchase a camera with a cellular connection. It means 3G or 4G, Verizon or AT&T networks. The cheaper version is a wireless trail camera, but there's also a shorter distance range between wifi trail camera and your phone.
Where You Can Use This Camera?
The camera that sends pictures to the phone is ideal for hunters or those who want to supervise the wildlife as well as for security. This trail camera will capture both animals and people if they're moving. So if you're away from home, you will immediately receive a photo if someone appears in your house.
Best 5 Trail Cameras That Send Pictures To Your Phone
Best Deer Camera That Sends Pics To Phone
CreativeXP 3G Cellular Trail Camera
No Damage On The Rain
This trail camera comes in green color which is like wood colors, so it has a bluff effect for deers and other animals, but for people, too. Its material is waterproof, so you can leave it on the rain in the wood and nothing's going to happen. The camera has a big lens in the middle of the device which enables a large view.
IR LEDs Lighten Long Area
No matter what time you want for the camera to capture the wood. The photo resolution is12 MP and 1080P video resolution which makes day photo quality. For night photos quality there are 56 infrared LEDs. The lights have no glow feature, which means nor animal neither human eye can notice it. The IR can lighten up the field of a maximum of 65 ft.
Up To 5 Pics Per Trigger
If you want to see deers in the motion, this camera can afford this effect because it captures fast movements with its 0,4s trigger. The big lens will notice every movement in a 110°wide area and it can shoot 1-5 photos per trigger. You don't have to worry that the camera will miss something.
500 Photos For Free
This deer cameras that send pictures to your phone is both cellular and wifi trail camera, which means you can connect it with your phone using the 3G cellular network or wifi. For a longer distance of connection, you have to use the cellular network. You will get the needed SIM card and 500 photo limit for free. All photos above this limit you have to pay. The price depends on the data plan you choose, but for more than 1000 pictures you pay about 8 dollars. You can use the SIMHERO card which supports all phone networks.
AA Batteries Or Solar Power
The camera includes a time-lapse option and timer, so you can set the time intervals of capturing. All the photos are saved on a 32GB SD card which is included in the box. The camera needs 8 AA batteries, but it can be charged by solar panels, too.
Features:
free 500 photos limit
SIMHERO card for all networks
110°view
Best Smartphone Trail Camera For Security
Bushnell Trophy Trail Camera
Neutral Brown Look
This Bushnell trail camera that connects to the phone doesn't have camouflage design but simple neutral brown. It has the lens in the top part. Inside the camera, there's a place for the batteries. You can open the cover and you can change the batteries easily.
Good Quality Resolution By Day And Night
This camera has one of the highest photo resolutions. It's a 20M photo and 1080P video quality. The good resolution and no glow IR light makes photo captured in the dark clear and objects visible. This way you can record anyone who's moving in your yard or in the house at night.
Picture And Sound Recording
The camera is appropriate for outside because it can locate the most 100 ft far movements. The night light is no glow, so potential thieves won't notice the camera. You can record a video with an audio option. But you can record for the most 1 minute.
Wireless Vs. Cellular Connection
If you want to receive photos the camera makes, you have to connect it with your phone via cellular or wifi network, just like the Creative XP trail camera that I reviewed above. This Bushnell camera also has a shorter distance wifi range than cellular. You can connect using wifi on the maximum 150 ft. To receive photos you have to download the mobile app, which also offers you a live streaming option.
Features:
cellular or wireless
no glow
Best Wireless Trail Camera That Sends Pics To Your Phone
Campark Wifi Trail Camera
Simple-To-Use Design
This trail camera will suit in almost all environments because of its green-brown colors. If you want to manage with its settings, you can open the cover and there you'll find operation buttons. They're simple to use because you can recognize the menu or replay button as well as turn on and off. The waterproof material protects the camera during wet weather.
Long Video With Sound
This trail camera has the same photo quality as the previous model I reviewed. The 20MP photo resolution makes sharp photos, but the video is less quality, 1295P resolution. The sound recording option in the video is available. The maximum length of the video is from 1 to 3 minutes.
Wireless Network And Remote Control
You can manage the camera using your mobile phone or remote control. For using a wireless connection, you have to install a mobile app and then you can receive photos from the camera. Remote control is included in the package and also has a limited connection range. You can use the remote control to turn on and off the camera.
Motion Detection In The Dark
You can be connected with the camera and receive photos at night, too. The camera has IR lights, bright enough to lighten up the field of the most 65 ft. Motion detection sensors function on the 65 ft distance range, too. So you can be sure the camera will record every movement in the dark.
Which Tools To Use?
For mounting the camera outdoor or indoor, there's needed equipment in the box. You will get the mounting belt, screws and threaded tripod. You can try which mounting tool is the best for the location where you want to install the trail camera and then use it. If you need more equipment, you can buy it separately, but these tools should be useful for you.
Features:
65 ft flash and motion detection range
hight quality photos
less quality video
sound recording
1-3 minutes of video
Best Mini Trail Camera That Sends To Phone
Spypoint Link Micro Trail Camera
This trail cam that sends pics to phone has small dimensions which enable you to carry the camera in your hand. The size is also practical to hide the camera outdoor. It won't be easily noticeable because of the size but also camouflage texture. The camera has an antenna for network connectivity.
100 Photos Without Paying
This trail camera supports only cellular 4G network and the mobile app is needed. You also need a SIM card which is included. There's a limit of pictures you can receive for free. Without paying, you can collect 100 photos on your phone storage.
Which Data Plan Is Profitable? 
For more pictures, there's the data plan price list. The highest price is about 10 dollars monthly, but you can receive an unlimited number of photos. For 7 dollars per month, you can store 1000 pictures and for the less, 4 dollars the photo limit is 250. So if your needs are more than 100 pictures, the most profitable solution is unlimited photos for 10 dollars. If you need just a little more photos than the free limit, the basic plan of 250 pics for 4 dollars will be enough.
Less Quality Resolution
The photo quality isn't very good, it's 10MP. The range of flashlights is 80 ft as well as motion detection sensors range. The camera can capture photos with 0,5s trigger speed, so you can have clear pictures of running animals or people.
16GB Or More Space
You can collect the photos on your mobile since the 4G connection is available, but all photos are stored on a 16GB micro SD card. You will get this memory card, but if you need more space, you can replace it with a new micro SD card. You can also change 8AA batteries, which aren't included.
Features:
small practical size
only cellular network
more data plan choices
10MP resolution
Best Night Vision Game Camera That Sends Pictures To Phone
Browning Defender Wireless Trail Camera
Less Noticeable In Foliage
If you want to use this cell phone game camera for outdoor, it's completely suitable thanks to its foliage-imitating pattern. The Browning camera has an antenna on the right side. You can open the camera on the bottom part and you will find operation buttons that you can manage with. There's a little color screen behind the buttons.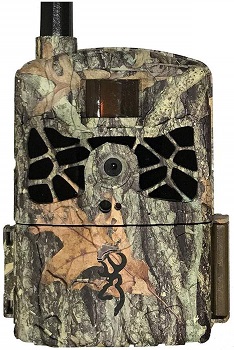 Hight Speed Recognition
The camera's resolution is high 20MP and 1080P of video. During the video recording, the sound is on. The camera motion detection sensors can detect a move when the object is the most 80 ft far from the lens. The camera has 0,2 trigger speed, so it can capture high speed.
Long Distance Of Flashlight
The main advantage of the camera is night vision. The IR lights are invisible, the camera has no glow effect. Besides, the flash range is even longer than the motion detection range. The light brightness is 120 ft long. So you can set the camera outside and you can receive photos during night, too.
Monthly Price For Cellular Connection
The network available on the camera is cellular, it doesn't support wireless. The data plan price is higher than the Spypoint trail camera, which review you've read. For using a mobile app with the 4G network you will have to pay about 13 dollars monthly.
Easy Transferring Files To Card Reader
The files on the camera are stored on the SD card. If you see the storage space is almost full, you don't have to carry the camera home. You can carry card reader with you and transfer photos and videos. The J-tech card reader is included in the package, as well as a 32GB memory card.
Features:
0,2 trigger speed
120 ft long flashlight
card reader included
Conclusion: The Best 2 Trail Cameras That Send Pictures To Your Phone
If you want a cellular trail camera, I recommend this Creative XP trail camera because the price is affordable and the pictures are of high quality. If you're looking for a trail camera with a wireless connection, I recommend this Campark trail camera. It is durable, has high resolution and you can receive photos for free.
If you're interested in other models, you can check this best trail camera post. If you're looking for cameras with only wireless connection, this best wifi trail camera post is for you. Or if you want only cellular cameras, you can read this post about the best cellular game camera.