Are you interested in a cellular game camera and want to know which is the best cellular trail camera for purchase?
Then you should read this post because I will give you all the information about the cell phone game camera. You can also read my 5 cellular game camera reviews and choose the model for you.
What To Know About Cellular Trail Camera
What Is A Cellular Camera?
As there is a wifi trail camera that you can connect with your mobile phone and receive every photo it captures, there's also a cellular trail camera you can use in the same way. The difference is in the type of network. Beside wifi, cellular game camera use 4G, LTE or Verizon network.
What Do You Need To Connect?
To connect your phone with a cellular camera system, you have to insert a SIM card, which is usually included in the package with a camera. You also need a mobile app, you can install it for free, but you have to pay for receiving photos. Every brand has its own price list and free limit.
What Is Max Distance Between Devices?
The cellular trail camera has a larger distance range than wifi game camera. Since wifi camera receives signals on the distance of about 60 ft, the cellular camera receives in the area where cellular network is available. You can check where you can searching the internet from and you will know where a cellular trail camera will work.
What Can You Use It For?
The cellular game camera has plenty of purposes. You can use it for hunting if you don't want to waste time waiting for animals. The cellular tail camera will send you photos and you'll know where to go hunting. People use it for home security, too. You will receive a photo message if the camera identifies someone in your yard or house.
Best 5 Cellular Game Camera Reviews
Best Cellular Security Camera
Moultrie XV-7000i Cellular Camera
Blends Indoor And Outdoor
Just like most trail cameras, this Moultrie trail camera is designed to blend in the environment. It has a wood texture and neutral brown colors that can suit anywhere outside, including your yard, as well as inside your house. So it will be less visible for thieves, too.
Mobile App Messages
You can connect this cellular security camera with your smartphone using a 4G LTE network. You have to download the Moultrie app to receive the photos. The app provides you to manage with the camera settings and your payment. The camera sends a message on your mobile phone when it detects motion and takes a photo. So it's ideal for your home protection.
Monthly Data Plan
The price of network usage depends on which Moultrie plan you choose. Since the number of pictures is bigger, the price is more expensive. You will have to pay the initial price of about 10 dollars monthly. The mobile app supports all phone providers.
Long Distance Flash Range
For the night vision, the camera uses invisible flash which can lighten up to 80 ft long distance. The motion detection sensors can identify a movement on the same distance. All motions will be clear on the photo because of 0,3 trigger speed and 20MP photo quality. The camera records 1080P quality videos.
Only 8GB Memory 
The camera requires 12AA batteries which can last more than 3 months. You also have to purchase an SD card. The best size of SD card is 8GB, the bigger cards may cause damage. This isn't so much space for a trail camera, so take care your camera has enough memory.
Features:
20MP resolution
data plan
8GB memory card
Best Motion Activated Cellular Trail Camera
Browning Defender Cellular Trail Camera
Foliage Pattern
This Browning cellular trail camera has a foliage-imitating design that allows it to protected from stealing in the wild and animals won't notice it. At the bottom part of the camera, there are operation buttons, simple to use, and the screen. The camera has an antenna.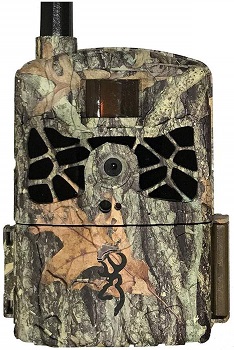 Location Data On Pictures
The camera can capture photos of 20MP resolution. The video is the same high quality, 1080P HD resolution and it requires audio recording, too. The photos can have location marks, which can be useful for you if you move the camera.
Data Plan And Price
You can make your data plan for each month. You will have to pay about 13 dollars monthly, but you have to check the Browning price list to know more details. The app isn't difficult to use, so you can watch and collect your photos on your smartphone easily.
Long Night Light Range
At night, the camera can capture objects the most 120 ft far away. This is its flashlight range. The motion detection range is also long, it's 80 ft. No matter how fast an animal is because its 0,2s trigger can catch fast movements.
Card Reader Included
This Browning cellular trail camera comes with an SD card of 32GB storage. You will also get a card reader which allows you to transfer photos and videos from SD card easily. The card reader is small-sized, so you can carry it in the wood and there make a place on the SD card.
Features:
20MP resolution
SD card and card reader
0,2 trigger speed
Best No Glow Cellular Trail Camera
Bushnell Impulse Cellular Camera
Protected From Stealing
This Bushnell cellular game camera is a long-shape camera with a neutral brown color pattern that suits the environment. The camera is protected with GPS, so you can immediately know if someone steals it and you can find it.
Wifi And Cellular Network
The camera accepts cellular networks as well as wifi. Since the wifi can work on the most 150 ft distance, the cellular network has a bigger distance range. You can use the mobile app to record a video and live streaming it on your phone.
60-Second Video Length
You can get quality 20MP photos and they have weather data stamp. You can see what date, time, temp and moon phase were when the photo was taken. You can also make videos of 1080P resolution. The maximum video length is 1 minute and it requires audio.
No Glow Light Save For Animals
There are PIR sensors in the camera which detect motion on a big distance. This is possible at night, too. Thanks to 48 LEDs, at night the camera can shoot the most 100 ft far objects. There is no-glow light which means it's invisible and doesn't disturb animals.
Package With Or Without SD Card
You can choose the package without an SD card, you will have to buy it separately. Or you can take the package with a 32GB SD card included. The price difference isn't big. The batteries aren't in the package, so you need 12AA batteries. The average battery life is 6 months.
Features:
 package with SD card
wifi also possible
no glowing light
6-month battery life
20MP resolution
Best Mini Cellular Game Camera
Covert Scouting Cellular Camera
Small-sized With Antenna
This Covert cell camera has small dimensions, but there are two antennas on each side that are important to a cellular connection. The camera color is green-brown. Its camouflage pattern and small size make this camera suitable for wildlife.
Burst And Silent Modes
The camera requires both photo and video modes of high quality. The photo resolution is 18MP and video resolution is 1080P. It has a burst mode, so it can make 1-10 shots. You can set on silence capture mode to prevent animals from disturbing.
Movements Visible In Dark
This Covert cellular camera uses 44 LEDs with no glow effect and 100 ft range. It's an average light range which should allow you to see all that's important including running animals or people. They are captured with 0,4s trigger speed.
Heat Activated Sensors
It's possible to connect the camera and phone using the AT&T LTE network or Verizon connection. You can watch your photos on the smartphone or the Covert web portal. Every time sensors recognize movement or heat, you will receive a photo via a mobile app. You can also see time, date, temperature and moon phase on photos and video.
Features:
silent mode
up to 10 shots
100 ft distance
Best Cellular Hunting Camera
Cuddeback CuddeLink Cell Camera
Small Grey Camera With Antena 
This Cuddelink cell camera is grey colored and includes the antenna on the top right side. It has a long shape, but its dimensions are small enough to carry easily. There is a cover on the bottom part and under it, you can find operation buttons and screen. You can check the instruction manual if you're not sure of the buttons' meaning.
Connection Between More Cameras
This Cuddeback cellular camera has a special network connection which allows you not to connect the camera with your phone, but the Cuddeback cameras with each other. You can purchase the package which includes 4 cameras, but you can buy more and connect the most 16 cameras. This means that the photos from all the cameras arrive at one home camera. This way you don't have to check every camera you set on the different places but only one.
No Payment For Connection
It doesn't use the cellular network for your phone, so you don't have to pay for it. The cameras has its own network which allows them to transfer the images to home camera. This is the reason this camera is ideal for hunting if you cover a huge wood area. Each camera can stand on each part of the wood and you can check all checking only one camera.
The Same Quality Of Night And Day Pictures
The photos this camera takes are 20MP quality resolution, which is one of the highest resolutions of a trail camera. You can set it to capture at night, too. The photos will be the same quality because of 24 IR 940nm LEDs which produce no glowing light. This way you can be sure animals won't have a fear of the light and you can oversee them at night.
Not Possible To Clear All SD Cards At Once
The photos of running animals are clear because this camera has 0,4 trigger speed. The camera collects the photos on the SD card. The maximum size of the memory card can be 32GB. You can watch the photos from the other cameras, but it isn't possible to clean their SD card from the home camera. You will also have to purchase 12 AA batteries because they're not included.
Features:
the network connection between more cameras
20MP resolution
Conclusion: Which Is The Best Cellular Trail Camera?
The 2 cellular game camera models which are worth to buy are Covert cellular trail camera and Browning cellular trail camera. The Covert camera has a practical side and a variety of modes which are useful, and also good quality resolution. Browning camera has even better photo quality and it comes with a card reader that enables you easy storing.
If you want to read more about trail cameras that send pictures to your phone you can check this post. If you interested only in wifi game camera, this post is for you. Or if you want to know which are the best trail camera models on the market, click on this post.