Are you frustrated because you aren't successful in capturing animals in the wild for the reason your camera flashlight scares them?
Then you need no flash trail camera and this post is just for you.
In this article, you can read about the best no glow trail camera. You can get all the information about it and choose the model you like to buy.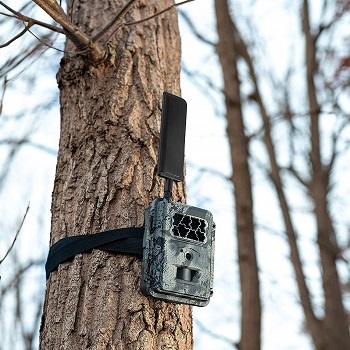 What You Should Know About No Glow Trail Camera?
What Is No Glow Trail Camera?
No glow game camera doesn't use flashlight by night shooting. Instead of light that disturbs animals, no glow camera uses infrared light what makes the camera invisible at night. This way you can be sure animals won't run away from the camera.
Why Is Important To Have No Glow Game Camera?
I've mentioned yet that no glow feature is the best way to keep animals close to the camera. Except for that primary function, no flash trail camera people use for home security.  If animals don't notice this type of camera, it's sure that people don't have the possibility to detect it in the dark, too. So there're not worry thieves will crash it.
The Quality Of Night Vision
Although there is no flash, this camera can capture good quality night photos. This is because the camera uses infrared light which can lighten as well as a flashlight. You will see clearly every object on photos, so there is no difference between no glow and flashlight trail camera.
The Price Comparison Between No Glow And Flash Camera
There's not a big difference in price between these two types of cameras. The best no glow cameras cost about and up 100 dollars, but you can purchase cheaper models under 100 dollars. It depends on the brand and other features a certain camera has, such as photo resolution.
Where To Buy No Glow Trail Camera?
If you want to buy a no flash camera, you can check the official website of a certain brand. No glow game cameras are also available in webshops like Amazon. On Amazon's sites, you can see how a camera looks like, what characteristics has and how much does it cost. You can also scroll down and read customers' reviews.
Best 5 No Glow Trail Camera Reviews
Best No Glow Trail Camera For Security
Bushnell 119874C Trophy No Glow Trail Camera
Simple To Use Design
This Bushnell no-glow game camera has less noticeable color and simple design. When you open the camera, you will find a little screen, operation buttons and switch on/off buttons on the left side. On the right side, there is a place for the batteries. This camera needs 8 AA batteries, but they aren't included.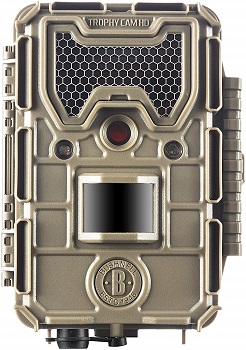 Operation Buttons Functions Marked
Operation buttons are simple to use, just like on the digital camera. Above the buttons, there are marks of functions of a certain button. You will see which button you have to press if you want to take a picture or record a video. There are also menu button and replay.
Big Motion Detection Range
This camera has a bright night vision thanks to low-glow light. It has 0,2s trigger which can capture movements in the night. The motion detection sensors will notice moving objects on the distance of the most 100 feet. So you can set this camera in your house and it will record all your yard area and even more.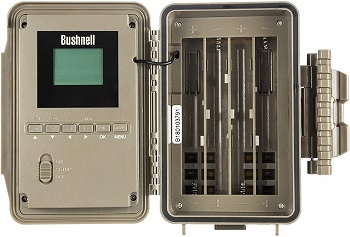 Resolution Good For Home Security
The camera can shoot photos of 20MP resolution and record HD videos. The high-quality resolution is important to have for recognizing faces if you set the camera for home security. The video length is 10 sec, which is more useful in wildlife than at home.
Easy To Set Up
If you use a trail camera in the wood, you can mount it on the tree. But if you want to install the camera in your home, it could be more complicated. So you will get needed accessories for mounting, such as style tripod. The camera includes thread port, so mounting should be easy.
Best Deer Camera Without Flash
Cuddeback Black Flash Trail Camera
Buttons Under The Cover
This no glow trail camera comes in brown-grey color. On the top, there is a screen and under the screen, there are operation buttons, protected with a cover. You have to open a little door in the middle of the camera and you will see 4 buttons, but they aren't marked clearly like on the Bushnell camera I've reviewed above. In the back part, there are 8 AA batteries.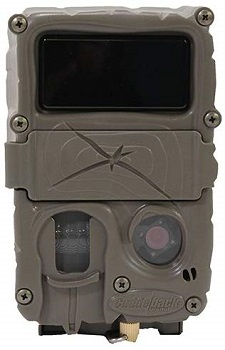 Wide And Centered Views
This camera has a 20MP photo resolution, too. That's good if you want to zoom objects in the wood, so the photos will be clear. You can make your photos better using a wide or centered mode. The wide view is appropriate if you shoot on the huge field. Another mode you can use for capturing in the wood.
Night Shooting Range
Night photo clearness is the same as in the daytime. Animals won't run away from the camera thanks to no glow feature. At night the camera can capture animals on the maximum distance of 50 feet. Its motion detection sensors can identify fast movement using 0,4s trigger speed.
30-second Video With Audio
Like the most trail camera, Cuddeback black flash trail camera video length isn't very long. But it's longer than, for comparison, the Bushnell model, so you can record a video for 30 seconds. A good feature of the video is a sound recording. After the camera makes a photo, it needs 1 sec to be ready to record a video.
Burst Mode For Running Animals
This trail camera has a variety of modes. Except for wide and centered modes, you can make shooting using burst mode. That's good for deer and other animals shooting because they are moving most of the time. The camera also offers a timer and more useful options.
Features:
a variety of photo modes
30-second video
Best Infrared Wildlife Camera With Motion Sensor
Primos Blackout Trail Camera
Foliage Design 
This Primos no glow trail camera colors seems like foliage so this camera has camouflage design. Under the cover, there is a little screen that shows battery capacity and photo options. You have to insert 8 AA batteries in the back part of the camera.
An Average Detection Range
This trail camera has PIR sensors, so it's sure it will identify a movement. The motion detection range is 45° wide, which is an average angle range. At night the camera has IR light switched on and it can detect objects on the distance of 35 ft.
Video With Sound Recording
The main advantage of this trail camera is a variety of modes, like resolution, burst mode, and video length. You can choose if you want high or low and video resolution. If depends on your needs. If it's important for you to record the sound of the wild, you can take the low quality of the video.
A Variety Of Video Lengths
Just like resolution, you can choose between 5, 10, 15, 20, 30 or 60-second video length. Photo burst mode also has a lot of variations. You can choose the camera repeats shooting from 1-5 times. The trail camera includes time-lapse, too.
The Batteries Life 
In the optimal conditions, the battery's life is 8 months. Its depends on how often you use the camera and which modes you choose. The battery life also depends on the weather conditions where you set the camera. It can endure a temperature of 20 °F to 120 °F and it's not waterproof.
Features:
PIR sensors
45 ° wide angle
8 months of battery life
not waterproof
Best No Glow Cellular Trail Camera
Spartan GoCam Verizon Blackout Flash
Screen And Batteries Inside The Camera
This Spartan trail camera has colors than blend in the wood environment. You can open the camera and see a screen and operation buttons on the left side and the batteries on the right side. The buttons are marked, so it's couldn't be difficult to use this camera.
4G/LTE Connection
The main advantage of this no flash camera is a possibility for connection with a smartphone. You will get the needed antenna which enables you to connect the camera. This way you can watch your photos on your mobile phone or internet portal.
Camera Status Seen On The Smartphone
You can see the photos on your mobile phone as well as operate with settings. You can see the battery capacity, how much place there is on the SD card, what temperature there is, how many photos the camera has captured and date and time.
Good Motion Detection With PIR Sensors
This Spartan trail camera has PIR sensors to detect motion. Trigger interval requires 0,3 s, so it will record every movement. The black flash won't scare animals, so you will see all that's going on there. The photo resolution is 3MP, so you don't expect to have detailed photos.
SIM Card Included
To connect your smartphone with the camera you will get needed SIM card. In the package with the camera, you will also get a mounting strap, so you will set the camera on the tree easily. However, the 12 AA batteries you have to buy separately.
Features:
4G connections
a lot of settings on your mobile phone
low photo resolution
Best Infrared Digital Scouting Camera
Wildgame Innovations Infrared Trail Camera
A Lot Of Memory On SD Card
This trail camera is completely black and has an average design. It contains 8 AA batteries, which are not included. You can also purchase an SD card, which can store many more photos than other reviewed models. You can insert an SD card with the storage of a maximum of 64 GB.
Photo Resolution And Video Length
The photo resolution is 10MP, so this camera will give you less detailed photos, unlike the models with 12MP or 20MP resolution. You can also record a video with this camera. The 30-second video has sound recording, too. Night vision of photo and video is black and white, while during the day it's colored.
Infrared Light Range
For night photos the camera has 90 ft ranged infrared light, so you can see what happens at night on the big distance from the camera. This night light doesn't annoy animals and you can watch what they're doing at night.
Movement Detected From Far Away  
Although the photo resolution is average, this trail camera has PIR sensors and 1s trigger speed. In comparison, with other reviewed model, this trigger speed is less quality, but still good enough to capture movement. Sensors allow the camera to capture animals or human movements on the distance of the most 75 ft.
Features:
it accepts the maximum 64 GB SD card
75 ft motion detection
90 ft night light range
Conclusion: Which No Glow Trail Cameras are Adviceable For Purchase?
If you are searching for good quality photo resolution no-glow game camera, I recommend you to check this Bushnell Trophy trail camera or this Cuddeback Black Flash trail camera. Both these cameras have high-quality 20MP resolution and invisible no glow light.
You can also check this post and see which are the best trail camera models you can buy. Or if you are want to capture action in the wild, here is a post about the best hunting action camera. If you rather need a camera to oversee your home, you'd be interested in this post about trail cameras for security.