Are you on a budget but need a trail camera?
Are you searching for cheap trail cameras?
Then keep reading because, in this post, you will find out all that you should know about cheap game cameras. I've also reviewed 5 cheap trail cameras so you can choose which is the best budget trail camera for you.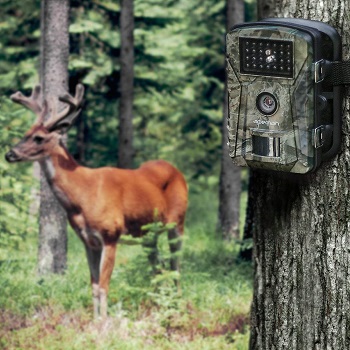 Things You Should Know About Cheap Trail Cameras
How Many Does It Cost?
If you're on a budget, probably the first question about trail cameras is what amount of money I can afford a trail camera for? The prices of trail cameras are from high 500 dollars and more, the average price is 200 dollars, but if you want the cheapest models, their price is about 60 dollars.
What Quality Cheap Trail Camera Is?
The cheap trail camera has good characteristics, but the question is what are you searching for. Of course, for more quality, you have to pay more. But there're also cheaper cameras which have similar characteristics like expensive models and which could suit your budget needs. You could be satisfied with the quality of the cheap model.
Where You Can Use Cheap Trail Camera?
If you are an adventurist or wildlife enthusiast, a cheap game camera should be enough for your needs. If you're interested in animal species and want to study them, you can set a trail camera in the wood time by time. A cheap trail camera is appropriate for that.
What Brand Offer Cheap Trail Cameras?
If you worry you can purchase cheap trail cameras only from some untested strange brands, you're wrong. The high rated trail camera brands offer cheap cameras, too. As you can find expensive models in their shop, you can also buy cheaper cameras. They harmonized the features of the camera with its price.
Best 5 Cheap Game Cameras For Sale
Best Cheap Deer Camera
Campark Hunting Trail Camera
Waterproof Material And Wood Pattern
This is one of the cheap deer cameras which blends in the wood because of its brown color pattern. The animals and humans won't notice it easily in the foliage or on the tree. Its material is waterproof, so it's ideal to stand outside.
Good Quality Photos For Cheap Price 
For its low price, you will get a high photo resolution. The photo quality of 14MP and 1080P video resolution are impressive for an inexpensive game camera. You can store what you record on the SD card which isn't included in the package. So the best SD card to purchase is a micro 32GB SD card.
Motion Detection Sensors Range
This trail camera is ideal for hunting enthusiasts because it can capture animals no matter if they're running or standing. With the 0,3 trigger speed, the camera can catch them in any position. It has 3 PIR sensors that detect animal motion on the distance of the most 65 ft.
Long And Wide View
This trail camera includes 42 LEDs, which means its night vision is quality although night photos are black and white. Not only the camera record all that's passing on the long distance in front of the camera but also "see" all under 120° area around the camera.
Attention Notes
The camera works with the batteries, which you have to change time by time because the battery isn't rechargeable. You have to take care of PIR sensors, the best way is to leave the protective foil on the camera. The SD card you insert in it you should format before usage.
Features:
high-quality photos and videos
the long and wide distance range
3 PIR sensors
Best Small Cheap Game Camera
Victure Mini Trail Camera
Stands In The Hand
This is the best value trail camera with the smallest size of 4,6 inch. You can carry it in your hand or it suits your pocket. This allows you to get rid of bags if you don't like to carry them outside. The camera has a camouflage design that fits in nature.
Thanks to its 16MP photo and 1080P video resolution, the camera offers a good view both in the daytime and at night. The camera won't be visible at night because of its no glow technology since you will get clear black and white pictures.
Standing Animals Also Captured
You will see any movement because the camera capture using 0,3 trigger speed and it takes 3 shots at the same time. This way is less possible to miss fast animals or another motion. There is a time-lapse mode, too, which means the camera can capture without motion detection.
Knee Level Mounting
You can mount this trail camera outside and don't worry about rain because it's waterproof. For mounting, you can purchase appropriate mounting straps, brackets or tripods. You can mount it on the tree or on a style tripod and hide it in foliage. See where it suits, but have in mind that the best view is on the knee level.
Rechargeable Batteries
The camera requires an SD card of all sizes, from 8GB to 32GB. Before using it, make sure you'd made SD card formating. You have to insert 4AA batteries or rechargeable battery, the camera has a slot for an external power source.
Features:
small size
invisible at night
Best Affordable Camera For Wildlife Photography
Apeman Wildlife Trail Camera
Color LCD Screen Under The Cover
This cheap wildlife camera has a green color design. The lens stands in the middle and allows a wide view. Under the cover, there is a color LCD screen and operation buttons. There is a place for batteries and the tripod slot on the bottom. There is a couple of buttons, so it's easy for usage.
Appropriate For All Weather 
You can use it outside on bad weather because the camera is waterproof and dust-proof. The trail camera includes a mounting strap, so you can set it easy on a place like a tree or pillar. The batteries can work in standby mode for about 6 months, so you can leave the camera in the wood.
Video With Audio Recording
You could be satisfied with the photo quality because the camera has 12MP. The video is 1080P, so also good quality and the sound recording is available. At night the camera uses IR LED lights which can lighten up the 65 ft area.
Big View Wildlife Photography 
The motion detection sensors have the same distance range. So all that's moving under 65 ft and under 90°angle area will be captured on the photo or recording on a video. This distance is enough to make nice wildlife photography, especially with 0,5s trigger speed.
Equipment You Get 
As I've said, the battery can be durable and you will need 8 AA batteries. They're not included, just like SD card, yo you have to buy it separately. The maximum size of the SD card is 32GB. But you will get the mounting belt, wall mount, and USB cable.
Features:
12MP photo resolution
0,5 trigger speed
90°wide angle range
Best Cheap Motion Activated Trail Camera
Meidase S3 Trail Camera
Protected With Lock Buckle
This cheap trail camera comes in grey color which makes it less noticeable in the environment. Inside the camera, you can find a color screen and a few operation buttons, but enough for all settings. On the bottom part, there is a tripod slot and, USB port and SD card slot, but the SD card isn't included. There's also a locking buckle to protect the camera.
Photo View And Data
The camera has 20MP photo resolution and 1080P video resolution, which is one of the highest resolutions affordable cameras can offer. You can watch photos in details and you can find out what date and time a photo was taken, as well as temperature and moon phase information.
Wide Detection Zone
The main advantage is its motion detection sensors, which are activated on the distance of 82 ft. The camera has impressive trigger speed, too. It takes 0,1 seconds to shoot the moving objects under the 60°detection zone. So this is one best trail camera under $100.
Invisible For Humans And Animals
Since the motion-detecting range is 82 ft, the night vision range is 100 ft. The camera uses invisible IR light, so nor animals neither people can see it in the dark. You can store pictures on the SD card of a maximum of 128 GB, so you don't have to worry there's no space enough.
Low Temperatures Resistant
The camera can handle wet weather and all temperatures, from -4 to 140 °F. So the camera is very durable. It can work with 8AA batteries for about 8 months, depending on how often you use it and which mode is turn on.
Features:
hight quality photo resolution
100 ft flash and 85 ft detection range
Best Cheapest Cellular Trail Camera
Moultrie A300 Trail Camera
Neutral Grey Color
This is one more best value trail camera that can suit in the wild because it has a neutral gray color which will be less visible outside. So you can set it on the tree and watch what happens outside. There's a lens in the middle of the camera, so it gives a huge view.
This camera is one of the cheapest trail cameras which offer cellular network connectivity with your mobile phone. If you want to connect these two devices, you have to buy the Moultrie model, which has a similar price as the camera. Then it will accept the 4G network, but you have to pay your data plan monthly. You have to check the Moultrie price list, the price is around 10 dollars. The Moultrie mobile app is available both on Android and iPhone.
Long-ranged Night Vision 
If you don't want to pay for the network which can afford you to receive the photos on your mobile phone, you can also use this trail camera without connection. The photo resolution is 12MP and it can record 720P videos. At night the camera uses IR light with 60 ft range, just like detection range is, too.
Battery Life Of 17 Thousand Pictures
This camera can work using 8AA batteries, but the good thing is you can also charge it using solar power. You have to buy a solar panel separately, so this could isn't for you if you're on a budget. The camera can capture about 17 thousand pictures with one package of AA batteries.
Features:
cellular network compatible
long-lasting battery life
720P video resolution
60 ft detection and IR light
Conclusion: Which Cheap Trail Cameras To Buy?
If you're looking for the best trail camera under 100 dollars, all these models I've reviewed are affordable. If you want advice on which model to choose, I recommend this Meidase trail camera or this Victure mini trail camera. The Meidase model is very durable and has a high resolution. Another one has the practical size, but also good qualities a trail camera should have.
If you want to know more about trail camera models, you can read this best rated trail camera post. If you need a trail camera for hunting, this best action camera for hunting post would be just for you. Or if you want to purchase trail cameras that send pictures to your phone, check this post.