Do you need more than one trail camera?
Then trail camera multi-pack would be just for you.
In this post, you can read all the information you should know before buying trail camera package deals. I've reviewed the best models which come in a multipack, so you can check out and see which one to purchase.
What You Should Know About Trail Camera Packages?
How Many Trail Cameras The Package Includes?
There is no only one answer to this question. It depends on the brand which offers multi-pack trail cameras and on its trail camera models. One brand can offer various models and the number of trail cameras can differ in each package. But it's also possible to find the same model with a different number of product pieces in the packages.
Why Buy Trail Camera Multi-Pack?
Game camera package deals are good for those who need to oversee a huge area at the same time. If you're a hunter, only one camera can cover just a part of the wood and you could miss the action on the other part of the wild. The same situation can be in your house and backyard if your home is too huge to be supervised by only one camera.
What Is The Price?
The price differs depending on the brand and model. More trail camera pieces the package includes, the price is bigger. But there is a quantity discount, so you will get, for example, 5 cameras and pay like you're buying 4 pieces. So it's definitely profitable.
What Size Package Is The Best?
The size of the package depends on your needs. Try to make a plan before buying. You can walk through the wood or another place you need trail cameras for and see where would you set the camera. Count how many cameras it would be optimal and you will know which package to buy.
Best 5 Trail Camera Package Deals For Sale
Best 2 Pack Game Cameras
Stealth QS14 FX Shield Trail Camera
Two Grey Wood-imitating Cameras
In this Stealth package, you will get two grey colored trail cameras and equipment for each one. The cameras' textures are wood-imitating. There's a touch screen on the camera, but you can also watch the photos inserting the SD card on your computer.
Up To 2 Minutes Video Length
The resolution of photos is 14MP, which is enough to see the photo on details. The camera can record a video of 5 seconds the minimum and  2 minutes maximum length. Time, date and moon phase data you can see stamped on the bottom of the picture.
Action Captured 3 Times
Unlike colored pictures captured by day, the night photos come in black and white color, but still clear. The camera can shoot 1-3 times when the objects are close, so this allows you to see movements both at night and in daylight.
Batteries And Memory Card Included
The great thing is that this package also includes two SD memory cards and the batteries for each camera. You will get 16 AA batteries and a double SD card with 8 GB memory space. This could be not enough space for you, so you can insert another SD card and it can be regular-sized although Stealth camera includes a micro SD card.
Profitable Price 
In comparison with Stealth one camera package and this Stealth cam 2 pack, you won't bet wong to take 2 packs because you will save your money. Except that, this is a beneficial pack trail camera because you will pay the same price for the Stealth 2 pack model with lower photo resolution.
Features:
12MP photo resolution
2-minute video length
batteries and SD cards included
profitable
Best No Glow Trail Cam 2 Pack
Wildgame Innovations Infrared Trail Camera
These two trail cameras have a grey texture that blends in the natural environment. Both animals and people will notice them not so easy.
Objects Recognised In Less Than A Minute
Like the previous trail camera I reviewed, this camera has 14MP resolution, too. The video length is shorter, but 15 seconds can be enough. The camera record 720P HD video in 16: 9 ratio. The camera needs 0,75 seconds to recognize and capture the running animals and other movements.
 Not Visible Flashlight
The feature which makes this Wildgame Innovation camera 2 pack different from Stealth cam 2 pack described above is its infrared light. So the camera can capture animals at night and they won't notice its light. The objects can be on the distance of 60 ft and the camera will lighten them and take pictures of them.
Strap Makes Mounting Easier
To set these trail cameras on the trees you will get needed strap. You will get two cameras with inserted SD cards. Memory cards can store only 8 GB, so maybe you will have to purchase new larger SD cards. The batteries are also included and you have to change them after some time because they aren't rechargeable.
No Discount Package 
In this Wildgame Innovations trail camera pack, the price corresponds to the quantity. That means you can get one piece of trail camera for the half amount of this 2 camera package. You won't save your money if you buy 2 pack trail camera, so choose the size of the package depending on your needs.
Features:
60 ft no glow light range
0,75s trigger speed
good quality of photos
Best Trail Camera 4 Pack
Cuddelink Black Flash 4 Pack Trail Camera
Comfortable Design For Carrying
In this Cuddelink trail camera package, there are 4 cameras and all of them have the same design. They have a grey smooth surface which blends in less than the other two previous models I reviewed. This model has an antenna and behind it, there is a little screen. The camera is round-angled so it fits in hand.
Ultra-high Photo Resolution
This camera package also has an invisible flashlight, which won't fear deers and animals won't run away from the camera. Its invisibility allows 940nm LEDs. The camera has one of the highest photo resolutions of 20MP.
All Photos On One Home Camera
This camera has a great opportunity to collect all the pictures on only one device. That means all 4 trail cameras from the package are connected, so three cameras send their images to the one primary camera. This way you can check only this one trail camera and you will see photos from all 4 camera memory cards. Not only 4 cameras can establish the connection, but also 3 camera package more. So you can link the most 16 cameras on one network. If you need more than 16 cameras, just form one more network.
The Distance Between The Cameras
The connection between the cameras functions on the distance of about 1 mile if there is an open place from the camera to the camera. In the wood, the range is smaller. The pictures which the cameras send to the home camera come in a smaller size, not full size.
Removing Photos From One Camera
There is enough space for photos because you can insert 32 GB SD card. You won't get an SD card and batteries in the package. You can clean the SD card only from the primary camera. Removing photos of other cameras from one camera isn't possible.
Features:
the connection between all 4 trail cameras
up to 16 cameras connection
20MP photo resolution
up to 32GB on SD card
Best 5 Pack Trail Camera
BlazeVideo 5-Pack Trail Camera
Blend-In Desing
In this BlazeVideo package, there are even 5 trail cameras that blend in nature. The cameras have camouflage texture inside. If you open the cover of the camera, you can see simple-to-use operation buttons and the color screen above them.
No Glow Night Photo Vision
The camera is invisible during the night thanks to no glow feature. That means it has a low flashlight which doesn't make the animals run away. With infrared light, the camera can capture objects that are the most 65 ft far away. It has a 65°wide angle range.
All The Data Marked On The Photo 
The high-quality 16MP photo resolution and 1080P video resolution produce clear and detail pictures and videos in the day as well as at night. You can see what time a picture is captured because the camera stamps date, time, temperature and moon phase data.
Resistant Of Low Temperature
These trail cameras are ideal for wood or open terrain because they are waterproof and low temperature resistant. The cameras can endure the temperature from -4°F to -140 °F, so it can last on extreme temperatures. The battery is a long life, it can last up to 6 months if the camera is on standby mode.
Protected Of Stealing 
You can set your password to protect the cameras from stealing. You can also choose between more than 10 languages on the camera device. The camera sends an alarm when the battery is low. You get 4 AA batteries in each camera.
Features:
-4°F to -140 °F resistant
password protection
Best 6 Pack Trail Camera
Stealth Cam QS24NGK Trail Camera
Camouflage Texture
We can see that Stealth brand offers trail camera packages of 2 to 6 pieces. This package includes even 6 cameras which can cover a huge area. The cameras has brown-green colors, ideal to blend in the environment, unlike the 2 pack Stealth trail camera which is less invisible.
Captures Animals 60 Ft Far Away
The photos are clear and sharp thanks to 12MP resolution. You can watch photos of animals which stand on a distance of 60 ft from the camera. The camera has burst mode which means the camera will shoot 3 times at once, so you can be sure it will capture all movements.
Ready For Usage
The package includes all needed accessories like 8 AA batteries and an SD card of 8 GB, so you can use the cameras immediately except in case you want more space for pictures. Then you have to purchase a new SD card but it should be up to 32 GB.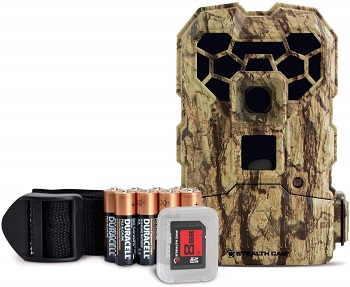 Mini USB Releases The Storage 
One more great thing is included mini USB which you can carry with you in the wood and transfer images from the cameras to USB. You will release the camera storage and it will be able to capture more photos. This way you can never be short of the storage.
6-Pack Discount Amount
This Stealth trail camera model is also available in one camera package. If we compare the prices, we have to notice this 6 camera package doesn't offer a lot of discounts. So this package is useful in case you need to oversee the huge area. It's not profitable just because of the price.
Features:
covers huge area
high-quality resolution
USB included
Conclusion: Which Trail Camera Multi-Pack To Choose?
If you wonder what size package to chose, you have to see how big is the area you want to supervise. If you need just one more trail camera, this Wildgame Innovation 2-pack trail camera is profitable. If you want more cameras in the package, you won't be wrong if you purchase this Cuddeback 4-pack trail camera. You can connect all of the cameras to each other and checking only one of them will save you time.
If you want to know more about game cameras, read this post about the best-rated trail camera. If you need to be connected with your trail camera, check this post about the best wireless game camera. Maybe you don't want to spend a lot of money, so this post about the best cheap game camera would be just for you.