Do you feel frustrated when you check your trail camera but it's off because the battery is empty?
And you regret all the photos which the camera could capture just in case the battery was full?
Then you need a solar game camera and you are in the right place where you can find out all about the best solar trail camera models, so keep reading this post.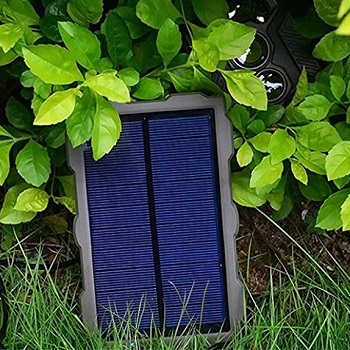 Things You Need To Know About Solar Trail Cameras
Who Needs A Solar Powered Game Camera?
The trail cameras charged by polar energy are the best for those who are too busy to check their cameras mounted in the wild all the time. When you buy a solar trail camera, you can be sure the camera will always capture pictures, so you won't miss any action. You can find out everything that was happening when you weren't there.
What Does Solar Powered Game Camera Need?
It's important to set this type of camera on the place covered with enough sunlight. The optimal place would be an open field, but if you want to oversee a wood, you can set the camera on the tree and the solar panel hasn't to be right by the camera but on the sunshine place.
How Long Solar Panel Can Work?
An average solar panel can last for about 20 years, so it's profitable to take a solar game camera. After some time, solar panels could be less effective, but still useful. The solar panel will maybe have longer durability than a trail camera, but you can change it and connect with the same solar panel.
The Price Of Solar Game Cam
It's impossible to find a polar panel trail camera for a price lower than 100 dollars, but that's normal considering its quality. You will definitely profit if you buy solar panel camera because the price isn't much higher than batteries powered trail camera and you will be more comfortable with solar charging. But you will have to spend money on a solar panel if it isn't included in the camera package.
Best 4 Solar Trail Camera On The Market
Best Solar Powered Hunting Camera
Spypoint Solar Trail Camera
Hunting Colors And Clear Screen
This camera design is simple green which makes this camera less invisible in the wild. So it's great for hunters or farmers. You can open the cover and watch the photos on a little colored screen. There is also a variety of operation buttons marked clearly and easy to use.
Never Full Memory Card
You can put an SD card of any storage size you want, but it should be more than 32 GB. You don't have to have a lot of space because the memory card can never be full. The camera has a mode that deletes the oldest photos when there's no more space.
Black Flashlight Not Noticeable
The camera captures photos of 12MP resolution and HD quality video. It requires low glow light for night shooting, so you can be sure animals will ignore the camera. The black flashlight range is 90 ft, what's one of the biggest flash range the trail cameras have.
Motion Detection Distance
The motion detection is activated and it takes 0,07s to identify and record an object. This trail camera sensors activate when animals come on a distance of 110 ft or less. This wide detection range is important for hunting to have a huge view of happening in the wild.
Solar Panel Charging
You can charge the batteries by solar power and the customers say there is enough even low sunlight for the batteries to remains full. You can also buy separately AA or lithium batteries and insert them in the camera, but that's unprofitable if there is solar energy.
Best Solar Trail Camera Night Vision
MyCommand Solar Trail Camera
Less Noticeable In Nature
The camera has a green foliage-imitating design. In the middle of the camera, there is a lens. This design is purposed for wildlife as well as for security. It will fit in your yard or house and thieves won't notice the camera.
All Equipment Included
The main advantage of this trail camera is an included polar panel and all needed cables to connect with the camera. The cable length is 5 ft, what is enough if you want to mount the camera and the solar panel on the different trees. In the package, there are more useful things such as mounting brackets for the camera and for a solar panel. You will get an Instruction manual book, too, which will help you with the installation.
PIR Sensors 90° Wide Angle
The day photo resolution is 12MP. The photos are colored and black and white at night. The night vision is especially good quality. The camera produces IR light for capturing night photos. The lights range is 65 ft. This trail camera requires PIR sensors which allow recognizing all the movements under 90° and capturing them with 0,5 trigger speed.
Nothing Happens If It Falls Down
The camera is made of waterproof material and it is less fragile. It's also dustproof and you can be sure its batteries are full. So this trail camera is ideal for open places where you don't have an opportunity to take care of the camera.
Photo And Video Formats
You can store the photos on an SD card of a maximum of 32 GB. The photos will be saved in JPEG format and videos in AVI format. TIn the box there is included mini USB if you want to transport pictures and make more memory space. You can use a time-lapse option.
Features:
invisible at night
5 ft solar panel cable
less fragile
waterproof
Best Solar Cellular Trail Camera
Spypoint Link 4G Trail Camera
Standard Trail Camera Look 
This is one more Spypoint camera that can be charged by solar power. The design doesn't differ much from the other trail cameras design. It's also green, just like foliage and trees, so animals won't notice it in the wild. Under the cover, there is a screen and buttons for turn on/off and other modes. It has an antenna on the left side.
Watching Photos On Mobile Phone
The camera has a 4G connection with your mobile phone. You have to download the mobile app and you can receive the photos when the camera makes shooting. You will also need a SIM card which you will get in this solar trail camera package.
Spypoint App Price
If you want to receive photos on your smartphone, you have to pay depending on the number of pictures the camera sends to your phone. The is a free limit of 100 pictures per month. It can be enough, but if you want more you can give around 10 dollars monthly. The connection with your phone is as useful as solar energy charging if you are too busy to go in the wild where the camera is mounted.
Long-distance LED Light Range
There are 42 LEDs built-in the camera that can lighten around 90 ft, so the night photos can be successful as day pictures. The camera trigger speed is 0,07s. The photos captured at the day are detailed because of 12MP resolution. The camera can record a video of 720P quality. The sound recording can be turned on.
SD Card Memory Enough? 
You will get a 16MP SD card, which is an average size of storage. If you don't have the possibility to check your camera and change SD cards, you should purchase a larger memory card. Except for solar charging, you can insert the batteries, too.
Features:
100 photo free limit
16GB memory card included
solar panel or batteries
90 ft range
Best Solar Powered Game Camera Motion Activated
Eco Lcc Solar Trail Camera
Wet Weather Resistant
This camera is a simple-to-use design. It is neutral gray colored outside and black inside. When you open the camera, there are operation buttons, the speaker and the LCD screen. On the right side, there is a space for the batteries. The material is waterproof. The lens stands in the middle of the camera. On the bottom part, there are sensors.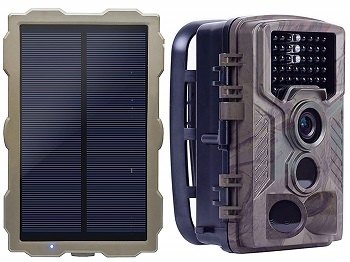 Smart Solar Panel
You can buy this trail camera with a portable solar panel, so it's surely profitable. You can use the batteries, too, but when the weather is sunny, it's definitely advisable to connect the camera with the solar panel. The solar panel is designed to recognize if the camera is overcharged. Then the solar panel can automatically switch off.
Photo Shooting Range
The photo resolution is 16MP and you can record a video of 1080P. The camera can capture a wide-angle of 120°. The motion detector sensors feel the moving object on the 82 ft distance. At night the photo shooting range is 65 ft.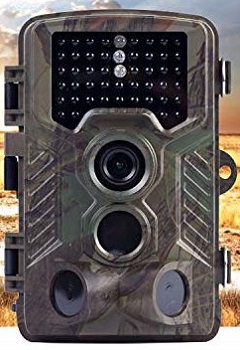 Impressive Video Length
The maximum length of the video is 10 minutes, what's the impressive length for the trail camera. You can turn on the sound on the video. There is also 3-times shots mode which is especially productive with 0,2-0,6s trigger speed. So the camera is ready for the wild because it's durable and can capture fast running animals.
Features:
10-minute video length
portable solar panel
high-quality photos and night vision
Conclusion: Which Solar Trail Camera Models To Buy?
If you want to purchase a solar-powered trail camera, that's a good choice. If you are busy to check the camera in the wild all the time, all these models would be useful for you. The two models which include solar panel are more profitable. They are the Eco solar panel trail camera and MyCommand solar trail camera, so take a look at them.
To learn more about the trail camera, check this trail camera sale post. If you are interested in hunting and need a camera for your deers, look at this post about the best action camera for hunting. If you rather like other wild animals, you can read this post about wildlife motion camera models.