Are you looking for a Covert game camera?
Then this post might interest you because I will present to you the best Covert trail cameras for sale. You can read the reviews of Covert trail cameras which could help you to make a decision which trail camera to buy.
About Covert Scouting Brand
Covert Scouting Beginnings
The Covert Scouting is a brand specialized for producing the trail cameras. This brand doesn't exist even from the last century, but it has developed when technology began to grow up. Covert launched in 2008 in Southern Kentucky and the Covert team is still placed there. Till today, Covert became one of the most wanted trail camera brands.
Offer Of Covert Trail Cameras
Every year Covert Scouting produces new models of the trail cameras. They launch all kinds of game cameras, such as wireless, security, hunting and other versions. They also offer needed accessories for a trail camera. If you need help, you can contact their customer service.
How To Buy Or Order Covert Trail Camera?
On the Covert official website, you can check all the models of its trail camera and buy it online. Covert's products are sold in a lot of shops in the east of the USA. You can buy a Covert trail camera on webshops, too. One of them is Amazon, where you can see the products and their characteristics, and order a product easily.
The Price Of Covert Trail Cameras
The most of Covert Scouting trail cameras cost about 300 dollars, but you can purchase cheaper as well as more expensive models. The average price of Covert game cameras is more than 100 dollars. That's because the Covert is one of the leading brands of trail cameras and the price is appropriate the quality.
Why Buy A Covert Game Camera?
The Covert is a brand which improves their products depending of the needs of their customers. Covert's trail cameras have a 2-years warranty, so you can return a camera or you can use Covert services which are available all around the USA. You can contact them via mail or phone, but not the store where you'd buy a trail camera.
Top 5 Covert Game Cameras For Sale
Covert Blackhawk LTE Verizon Trail Camera
Blend-in Color With Antenna
This Covert cellular trail camera comes in camouflage color and with an antenna for receiving network signals. The camera includes a color screen and buttons which you can use to choose the camera options. The screen is also purposed to watch pictures and videos.
Unnoticeable In The Night Dark
The photos this Covert deer camera captures are of 12MP resolution and the videos have 720P quality, and the video includes audio. The trail camera includes 60 LEDs that are unnoticeable in the dark. If you need a camera for hunting, this one is safe for animals. Although it produces invisible light, its night light has a 100 ft range.
Convert Mobile App Options
This Convert trail camera can be connected to your phone via Convert mobile app. This is a great advantage of this camera because you can see the pictures at the moment they appear on the camera storage. You have to use cellular networks, like Verizon or AT&T.
Silent Capturing Mode
The camera uses 0,7 trigger speed for capturing wild animal running. There is also burst mode which makes the action view better. The trail camera can function with time-lapse mode and with motion detection. One more advantage of the camera is silent mode when capturing, so it won't disturb animals.
More Storage For All The Files
The difference of this trail camera and most of the trail cameras is that this camera supports SD card of a maximum 64 GB size. That's once more memory than an average 32GB SD card. The camera requires 12 AA batteries.
Features:
60 LEDs
silent mode
cellular network connectivity
Covert Mossy Oak Gamekeeper Census 1080 Trail Camera
Hunting Colors Blends In Nature
This trail camera is designed for outdoor, so it has hunting colors which suit the environment. The camera offers you to watch the photos immediately on the color screen, protected with the cover. The lens is on the top part of the camera.
Photo And Video Modes
This Covert hunting trail camera has 12MP photo resolution, just like the Covert Blackhawk, but the video resolution is higher. This camera can record 1080P video. The lens on the top of the camera oversees the 52°wide area.
Wildlife At Night View
For wildlife photography, it's important to have fast 0,4s trigger speed and burst mode with up to 10 shots possible. If you want to oversee the night wildlife, you can set this camera there and you will see what happens on the distance of 100 ft. Besides, you can find out time, date, temperature and moon phase which are stamped on the photo.
Silent And Dark Camera
This trail camera is also silent while capturing and recording. Just like this silent mode, the invisible flashlight makes the camera unnoticeable both for animals and people. So it's less possible for the camera to be stolen. This way you can be sure all the photos which are stored on the 32 GB SD card are saved.
Mounting And Charging Equipment
The camera requires 8 AA batteries. You can mount it on the tree or you can hide the camera in foliage using tripod. It's suitable for style tripod you can catch the camera on it and put it all on the stable floor.
Features:
good quality resolution
52°wide angle view
date stamp
mounted on tripod
Covert Code Black LTE Trail Camera
Protection Box Included
The Covert code black game camera comes with two antennas on each part of the device to receive the network connection better. This camera has also hunting camouflage colors outside. The package includes the protection box if you leave the camera far from you.
Clearness Of The View
This Covert trail camera has similar view range like the previous model I reviewed, but still a little wider. Since the Mossy oak gamekeeper census 1080, has a 52°range, this Covert code black camera has a 58° wide-angle perspective. The photo resolution is 20MP.
Protected From Damage And Stealing
Two years warranty ensures the camera from damages which aren't caused by customers. The camera package includes a box for protection from damages and thieves, but it also has built-in GPS. So if the box isn't practical for you, you can mount the camera without the protection and GPS will help you to find the camera if someone steals it.
Wireless And Cellular Support
This is a Covert wireless trail camera, which means you can use a wireless connection to receive the photos from the camera to your smartphone. If the wireless range isn't enough for you, this camera can send pictures using cellular networks, too. The camera can send you all the photos and video of 5 seconds length.
Features:
connection with phone
58-degree wide view
Covert E1 Verizon Trail Camera
Usual Design And Colors
This Convert game camera has a similar design like the Covert Code Black. It also has two antennas and colors which makes this camera less visible in the wood. So you can leave it in the wild without care someone might notice this camera easily and steal it.
Phone Or Web Portal
A cellular network is available on this trail camera, too. You can use Verizon or AT&T network and watch the pictures on your phone or web portal. The camera can capture up to 10 shots with burst mode and you can see them at the same time. You can choose between monthly, quarterly or yearly data plans and the price depends on the number of photos the camera sends to you.
Night And Day View
This camera offers you 18MP photos and 1080P videos. You can choose and combinate photo and video modes, depending on your needs. You can get a quality night view because the camera has 44 LEDs with 100 ft range. The light is invisible and not disturbing for animals.
About 40-Degree Perspective
This trail camera has a 45° wide-angle range and it can shoot movements with its 0,4s trigger speed. The burst mode is on, so you can get the full view of any motion. The action is seen at night, too. This good night vision is possible thanks to 44 no glow LED lights with a distance range of 100 ft.
Battery, Memory, And Mounting
The camera needs 12AA batteries and the SD card of the maximum 32GB. You can mount this camera on a tripod and set in the wild. For mounting the camera on the tree in the wood, the best is to purchase a mounting strap.
Features:
data plans
100 ft distance range
0,4s trigger speed
Covert Black Maverick Trail Camera
Easy Mounting Design
This Covert trail camera can stand on the rain, snow or bad weather because its waterproof material protects it. It's small enough to stand in a hand and has camouflage colors in order to blend in nature. Inside the camera, there are buttons for settings and a small screen. On the back part, the camera has construction for easy mounting.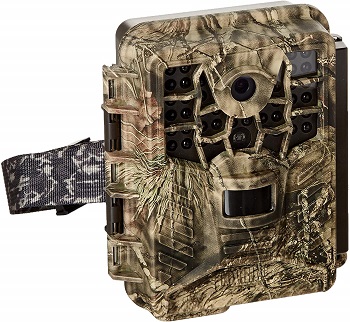 Good Quality Resolution 
This trail camera captures 12MP photos and 1080P videos with audio, which are stored on the SD card. You have to buy it because the package doesn't include it, but choose up to 32GB memory card. The lens covers the area of 52°around the camera.
Without Disturbing Animals
Just like other Covert trail cameras, this one has silent mode to prevent animals from disturbing. It also works using no glow lights, so it's protected from animal and human touch at night. The camera has a long flashlight range, so you will see the moving objects on the distance of the most 100 ft.
Burst And Time Lapse Mode
The camera works on 8AA batteries which you can change easily, but not often. The camera has a long battery life. A lot of modes ensures the camera to produce quality photos and videos. It includes burst mode with turbo 10 shots and time-lapse mode with up to 1-minute time intervals.
Features:
silent mode
no glowing light
time intervals
burst mode
100 ft light range
Conclusion: Which Covert Trail Cameras Are Worth To Buy?
If you want to buy a trail camera that can send the pictures on your phone, then I recommend this Covert Blackhawk LTE trail camera. Except for the network connectivity, this camera has quality resolution and can support SD card with a lot of memory. If the connection isn't important for you, you can choose this Covert Mossy Oak Gamekeeper census 1080 trail camera because it has also quality vision day and night.
You can also check this post to see the offer of the best trail camera models on the market. If you need a cellular or wireless trail camera for hunting, you can read this post about deer cameras that send pictures to your phone. Or if you are on a budget, check this article about cheap trail cameras.