Are you contemplating to buy one of the Cuddeback cameras but you don't have an idea which one would be the best for you?
Then this post might help you to choose.
In this post, I will give you some information about the Cuddeback brand. You can also read 5 Cuddeback game camera reviews. So, keep reading and see which Cuddeback cameras you would like to buy.
Things To Know About Cuddeback Trail Camera Brand
Cuddeback History
Cuddeback brand was established in 1989 as a brand that produces kitchen tables. Later Cuddeback began the trail camera project and till today it's one of the most quality band of trail cameras. The Cuddeback team improves its trail cameras in order to satisfy hunters' needs.
Free Cuddelink Network
The Cuddeback launched its own network known as Cuddelink which is purposed to connect the Cuddeback game cameras with each other. That means you can buy Cuddeback packages of 2 or more trail cameras and link the most 15 cameras with one Cuddelink network. There's a home camera that receives all the photos from other linked cameras. You don't have to pay for Cuddelink.
Why Buy Cuddeback Trail Cameras?
The Cuddeback brand produces the game cameras witch give you a clear photo, trying to minimalize the motion blur. Their mission is to make cameras that can capture even small animals and every motion. So the Cuddeback trail cameras are fast triggering and precise.
Where To Find Cuddeback Cameras For Sale?
You can order a trail camera on the Cuddeback website as well as on webshops like Amazon. On this webshop, you can find the best Cuddeback trail cameras. Their price is about 100 dollars and you can pay less during a discount period. Amazon offers you product pictures and specification description.
Cuddeback Trail Camera Warranty
You can register your Cuddeback trail camera on the Cuddeback official website and you can get a special warranty named 5.2.1. warranty. That means that you get a 1-year warranty when you buy a project. If you register it, you get 2 years warranty more. The number five means that you can replace the trail camera in these 3 years of warranty time.
Best 5 Cuddeback Game Camera Reviews
CuddebackH-1453 Trail Camera
One Revolving Button
This Cuddeback trail camera has a simple design and grey color. You can use it simply because the camera has only one button which you can turn around to choose video length, mode, and other settings. Above the revolving button, there's a little screen.
Day And Night Vision
This trail camera has 20MP photos which are colored at day and black and white at night. In the dark, the camera can notice the objects and capture them on the distance of the most 100 ft. The recovery time is 1 second, which enables you to have more photos.
Motion Detection Range Conditions
The detection range isn't so long as the infrared flashlight range. The motion detection sensors can recognize moving objects on a distance of 40 to 50 ft. The range depends on weather conditions, temperature, and angle of capturing. So for wildlife photography, it's better to use the camera during warm weather.
From 12s To 24h Intervals
This Cuddeback trail camera offers you a lot of modes. Except for photo mode, you can choose the video of 10, 20 or 30-second length. One more mode is a time-lapse option, so you can choose a time interval from 12 seconds to 24 hours. The camera can capture fast motion using 0,4s trigger speed.
No SD Card Storage Option
You need 8 AA batteries for this camera. The battery life is about 6 months, so the camera can capture about 10 thousand pictures with one package of the batteries. This camera will never have a lack of memory space because it has no SD card option. When the memory card is full, the photos and videos are stored on the camera storage.
Features:
simple setup
time-lapse
no card mode
Cuddelink Dual Cell Trail Camera
The Lens In The Middle
This Cuddeback dual cell has a similar design like the Cuddelink home cell, but this model has the lens which means it can both receive photos and take photos. On the bottom part of the camera, under the cover, there's a screen and buttons for settings. This camera has three antennas, too.
Solo Or Home Camera
As I've said, except receiving files from other Cuddeback trail cameras, this camera has capturing mode, too. It can function as a solo device and it also can work as a Cuddelink home cell. If you choose photo mode, you will get quality 20MP photos.
Two Supportive Models
If you choose to use this Cuddeback cellular camera for connection with 16 cameras or less, you have just two choices. This device supports Cuddeback K-5680 and K-5789 models. The number of remote cameras is for one more and the cell plan price is the same as for the Cuddelink cell home model I reviewed above. While this camera works as a home camera, you can see all remote cameras' information. For example, you can see if some camera hasn't memory space enough or low battery.
A Plenty Of Modes
This Cuddeback dual flash camera captures with 0,4s trigger speed. The night vision is about 100 ft long and can be longer. The flashlight is invisible thanks to ist no glow effect. The camera has various modes. The first one is day and night mode which recognizes the time and adjusts photo setting depending on daytime or night.
More Modes And Options
Other modes this trail camera includes are burst mode, so the camera can capture up to 5 photos per trigger. If the burs mode is on, this home camera will receive just the first pictures, not all 5 pictures, but they are collected on the SD card. You can also choose a time-lapse mode.
Features:
solo and home option
20MP resolution
two models supportive
burst and time-lapse modes
Cuddeback Cuddelink Black Flash Trail Camera
Cuddeback J-Series Model
This is a Cuddeback black flash model from Cuddeback j-series. It looks similar to other Cuddeback trail cameras. It has an antenna on the top and operation buttons and the screen on the bottom part. Under the cover there are a few buttons you can press to choose the settings, so the usage is simple.
The Same Cuddeback Specification
The possibilities of this Cuddeback link camera are the same as the previous model. This Cuddelink cell camera has 20MP photo resolution, 0,4s triggers speed, black flash which is invisible at night, but the flash range is shorter. This camera night vision is about 50 ft long.
Photos Every 10 Seconds
This is one more Cuddelink camera, which means it can receive data from other Cuddeback game cameras. The camera also offers burst mode with the most 5 photos. With the time-lapse mode, this camera can take pictures every 10 seconds as well as every 24 hours.
No SD Card Option
If the SD card is full, this camera can continue to capture photos. So you can be sure you won't miss any action because of the lack of memory. There's also less possibility for the camera to stop working because of the empty battery. The camera needs 12 AA batteries which can last up to 6 months. Of course, it depends on how often you use the camera.
Cuddeback Blue Series Trail Camera
Without Home Function
This Cuddeback camera doesn't have a home function but can be connected with the Cuddelink cell home. You can open the camera to insert the batteries. On the bottom part of the device, there's a slot for the SD card. In the middle, there are the lens and the screen and a few operation buttons under the cover.
Faster Trigger Speed
This Cuddeling trail camera has faster trigger speed than other models I reviewed above. This camera has 0,25 trigger speed and 1 or 2 seconds recovery time. That means you can expect photos of really fast movements. You can also set the time-lapse mode.
Night And Day Photos Quality
You can choose the photo resolution from 5 to 20MP. The night photos are black and white. With the highest resolution and 940nm black flash, you can see night action as well as during the daytime. The flash range is 100 ft, like the most of Cuddeback trail cameras.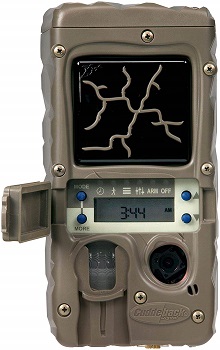 The Battery Life Influence
This trail camera requires 2 AA batteries or you can insert rechargeable batteries. The battery life is longer if the camera captures less photos, but the cold weather decreases the battery life faster than a lot of capturing. You can purchase the rechargeable batteries in the Cuddeback cameras store.
Features:
5-20MP photo resolution
100 ft IR flash range
not cell home camera
connected with a cell home
Cuddeback 1279 Trail Camera
Changeable Flashlight
This Cuddeback trail camera is brown colored with the light on the top which you can separate from the camera. So you can remove the flash if you don't need it or you can change it. For inserting the batteries you have to open the back cover of the camera.
Fast Recovery Time
This camera use usual Cuddeback 0,4s trigger speed and 1 second recovery time. The photo resolution is also the same. So, the pictures are of 20MP quality, but this camera takes colored photos during the day as well as at night. This option is possible because of the color strobe night light.
Photo And Video Mode Simultaneously
This Cuddeback game camera offers both photo and video modes. You can choose which one you want and you can also choose both modes at the same time. That means that the camera will capture the pictures when recording the video. The video length can be from 10 to 30 seconds.
Color Strobe Light Included
The flashlight can be infrared or color strobe. When you buy this trail camera, you will get a built-in color strobe light. If you want to change it, you have to buy a new light separately. The color strobe flash can lighten up the area of 100 ft.
Waterproof And Easy Mounting
This camera requires 8 AA batteries. The no memory card mode is possible, so if the SD card is full, the pictures will be saved on the camera storage. The camera is waterproof, so you can mount it outdoor with Cuddeback Genios mounting equipment.
Features:
video mode
color strobe night light
changeable flash
Cuddeback Parts And Accessories
If you buy a Cuddeback trail camera, you might need to change the batteries after some time. In the Cuddeback store, there is a Cuddeback J series D battery pack which you can order if you have Cuddeback Cuddelink black flash trail camera or other models from J-series. Instead of AA batteries, you can use these 6 D batteries and have longer battery life.
Conclusion: Which Cuddeback Trail Cameras To Buy?
If you want to purchase a Cuddelink game camera, I recommend this Cuddeback Cuddeling Dual Cell trail camera. You can use it to receive photos from connected remote cameras and you can also use it for shooting, so it's practical. If you need a trail camera only for capturing, I recommend this Cuddeback X-change trail camera. It's quality because it offers color night photos and you can change the flash.
If you need more ideas about which trail camera to choose, this post about the best-rated trail camera may help you. If you want to buy a trail camera that can send photos on your phone, you might be interested in this post about the cellular game camera. Or if you'd rather like to connect using wifi, this wireless game camera post is just for you.