Do you need a trail camera that you could connect with your smartphone?
Are you interested in wifi game camera or Bluetooth game camera?
Then read this post because you can find out all about wifi trail camera, read 5 wireless trail camera reviews and see which is the best wireless game camera for you.
Things To Know About Wireless Trail Cameras
What Is Wifi Trail Camera?
Wireless or wifi game camera is a type of camera that has wifi network and you can connect it with your smart device. Just like wifi trail camera, the Bluetooth trail camera has the same characteristic, so you can connect it via Bluetooth. The camera can include both wifi and Bluetooth connectivity.
How To Connect It With Phone?
For connection wireless game camera to a smartphone or another device, you need a mobile app. The camera brands offer you to download it for free. In some wifi camera packages, there is a remote control which is also connected with the camera.
How Does Wifi Trail Camera Work?
This kind of camera includes its own wireless network which your mobile phone can connect with. The wifi game camera can also connect with wifi available in the area where it's mounted. So, for receiving photos on your phone, you have to connect the phone and camera using the same network.
Where To Use Wifi Trail Camera?
This remote game camera you can use for hunting, wildlife, backyard or home security. When the camera takes a photo, you will receive it at the same moment. So you can immediately know who is in your backyard or if animals come out. Since this camera works using wifi, there is a distance range between these two devices and it depends on each model.
Best 5 Wireless Game Camera Reviews
Best Wireless Trail Camera Motion Activated
Browning 940 Defender Wireless Game Camera
Ready To Mounting 
This Browning Defender wireless trail camera has a wood-imitating pattern, so it's appropriate for hunting and wildlife. It will be less noticeable in the wood for both animals and the human eye. The camera hasn't too big size and there's a mounting bracket on the back part of the camera.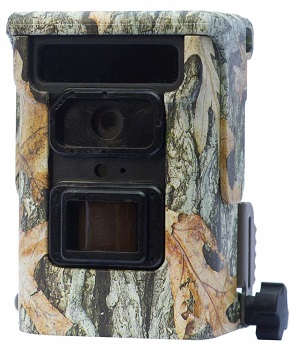 Mobile Phone Near The Camera
This Browning wifi trail camera has both wifi and Bluetooth connectivity with your device. You can connect it with your smartphone or tablet. You have to receive photos from the camera via Browning mobile app on the distance range of about 60 ft. This means you have to stand quite near the camera or your house have to be near the wood.
Watching Photos On Phone Or Camera? 
You can receive very quality photos because the camera has a 20MP resolution and 1080P video resolution. If you want to stop receiving the photos, you can change settings. Then you can watch the pictures and videos on the camera screen. If you're in the wood near the camera, it's better to watch on the screen because your photo limit on the phone won't be full.
80 ft Range Area 
The camera can capture quality night photos with its IR flashlight which can lighten in the 80ft range area. The camera sensors can locate the movement when animals or people are the most 80 ft far away. It will record fast movement thanks to its 0,4s trigger speed.
Memory Storage And Charging
The great thing is that the camera includes the battery and SD card. You will have to purchase double equipment for more memory and if the battery discharges. The included SD card has 16 GB memory space, so it's possible you will need an additional SD card.
Protection From Damage
This Browning wireless trail camera comes with a security box that you can use for protection from stealing as well as from water protection. The camera is water-resistant, but not enough to handle all bad weather conditions. So you can put it in the box and be sure nothing bad can happen.
Features:
80 ft detection and flash range
20MP and 1080P resolution
protection box and mounting bracket included
Best Wildlife Wireless Trail Camera
Stealth Cam FLX Wireless
Operation Buttons Unter The Cover
This Stealth cam wireless has gray wood texture and antenna on the top. In the bottom part of the camera there are operation buttons and little screen, protected with a cover. You can manage with turn on/off bottoms, menu, enter and up/down/right/left pointer buttons. The usage isn't too complicated.
Ideal For Backyard And Home
This Stealth cam remote use wifi or Bluetooth to connect with your mobile phone. These two devices can be separated up to 50 ft, so it's ideal for your backyard monitoring. The mobile app will send you a message when you receive photos.
The Best Photo Quality
This wildlife camera wifi stands out because of its ultra-high-quality photo resolution. The 30MP resolution makes photos clear, sharp and you can see the smallest detail. The camera can record a video, too. The video is also high quality, but 1080P is an average resolution for trail cameras.
Blur Reduction Settings 
The camera has IR night light and 4s trigger speed. It can capture movements, but not so good like, for example, a 0,4 trigger. But it has blur reduction option which can replace lower trigger speed.
The Camera Connected Directly With Computer
The camera requires an SD card up to 32GB size. You can take off the SD card and insert it in a computer, but you can also connect the camera with a computer directly with a USB cable. You will need 8 AA batteries. You can also charge the camera by 12V external source.
Features:
30MP photo resolution
up to 50 ft connection distance range
Best 4G Game Camera Wireless Cellular
Creative XP Wireless Trail Camera
Camouflage design 
This Creative trail camera has a texture that can blend in the wood and make the camera less visible. There are two antennas which you have to insert on the top of the camera for wifi connectivity. You will get a mounting bracket which will help you to install the camera in nature.
Cellular Connectivity Option
Not only this trail camera can receive photos using wi-fi, but also it can use a 4G cellular network, but you have to pay for more than 500 photos. This way the connectivity range can be longer. You will get an appropriate SIMHERO card to activate it. You can set a timer for auto-recording any time interval you want and you can also choose to receive photos every 3 minutes.
Wide Angle Range View
You can capture the quality photos of 12MP resolution and you can record 1080P video. The photos which arrive at your mobile are full-sized. The night vision is also quality, there's IR light whose range is 65 ft. The camera has 0,3s trigger speed and PIR sensors which detect movement in the area of 110°.
Solar Powered Batteries
The camera requires 12 AA batteries which are not included. You can also insert rechargeable batteries and charge them by the external power source. However, this camera has the possibility of charging using solar power. So, it's suitable for any outdoor place where you can mount a solar panel.
Durable On Bad Weather  
Not only because it's solar-powered, but this camera is also ideal for outdoor because it's waterproof. It can handle any weather conditions, including rain, snow, fog, and ice. So you can set it in the wood not so near to you and you don't have to worry if it's bad weather outside.
Features:
wifi and cellular network possible
chargeable by solar power
Best Wifi Hunting Camera
Campark Wireless Trail Camera
A Lot Of Operation Buttons
This wireless deer camera has green and brown colors and thanks to them it's less noticeable outdoor. When you open the camera you can see the photos on the screen on the top and manage with operation buttons, such as shot, zoom, menu, replay and turn on/off. On another side, there is a place for the batteries.
The Same Range Of IR And Motion Detection
The photo quality is very high. The camera captures 20MP resolution photos. The video resolution is 1296P HD. The camera can record a sound, too. At night the camera use IR light whose range is 65 ft. The same range has motion detection sensors.
Remote Control In The Package
In the package with the camera, you will find the USB cable for transferring photos to the computer. There's also a threaded tripod for installing the camera, but you can also hang it on a tree using a mounting belt included in the box. You will get a remote control with switch on and off buttons, so you don't have to go for a camera in the wood to turn it off.
SD Card And Batteries Not Included
The wifi hunting camera has the stamp on the picture, which includes the date, time, moon phase and temperature. There's also timer available. The camera has waterproof material, appropriate for standing on bad weather. Before using the camera you will have to buy an SD card and batteries.
Features:
waterproof
20MP resolution
Best Mini Wireless Trail Camera
BolyGuard Wireless Trail Camera
Unprotected Screen
This BolyGuard trail camera comes in green color which suits in nature. There is a little screen on the top part, but it's not covered, so you have to take care, you can scratch it. There is a couple of buttons you can press, so usage is simple. The camera is smaller than average human palm, so it's practical to carry in your hand or pocket.
Memory Button For Wifi Connection
The camera is connected via wifi with your phone, but also with small remote control. It allows you to turn on and off the camera and you don't have to touch the camera. You will get a 16GB SD card that has a button you can press to connect it with your phone or computer.
Good Quality Photos Of Running Animals
The camera can shoot the pictures in the daytime and at night. In dark it uses IR lights with a distance range of 70 ft. Thanks to the 12MP photo resolution and 1,2s trigger speed the camera will give you quality photos of fast animals that run on the distance on 85 ft and less. There's also a 55°wide angle range.
Low And High-Temperature Resistant
The camera is resistant to ultra-low and high temperatures and water. You can leave it in the rain or snow and it can durable -20°C to +60°C. So the camera is ideal for your trips in nature or for supervising animals for hunting purposes.
Additional SD Card Possible
The batteries aren't included, the camera requires 4 AA batteries. In the package, there is a 16GB SD card, but if it's not enough for you, you can insert an SD memory card of the most 32GB. You will also get remote control connected with wifi and bolt for mounting.
Features:
-20°C to +60°C durable
85 ft detection range
55°wide angle
wifi remote control
Conclusion: Which 2 Wireless Trail Camera Models Are The Best?
If you wonder which wifi game camera to choose, I recommend this Campark wireless trail camera. This model has high photo quality and includes a remote control, so you can manage with the camera easily. If you're more interested in Bluetooth game camera, I recommend checking this Browning Defender wireless trail camera. The camera captures high-resolution photos and comes with mounting equipment.
If you want to learn about more models of game camera that sends pictures to phone, you can read this post. If you want just a cellular trail camera, check this post. And if you need a trail camera for hunting, this deer camera that sends pictures to phone post is for you.